Hong Kong Pt. I: Travel & Photography
Holy shit, Hong Kong! Let's talk about Hong Kong! What a crazy place Hong Kong, I think I need to live in Hong Kong!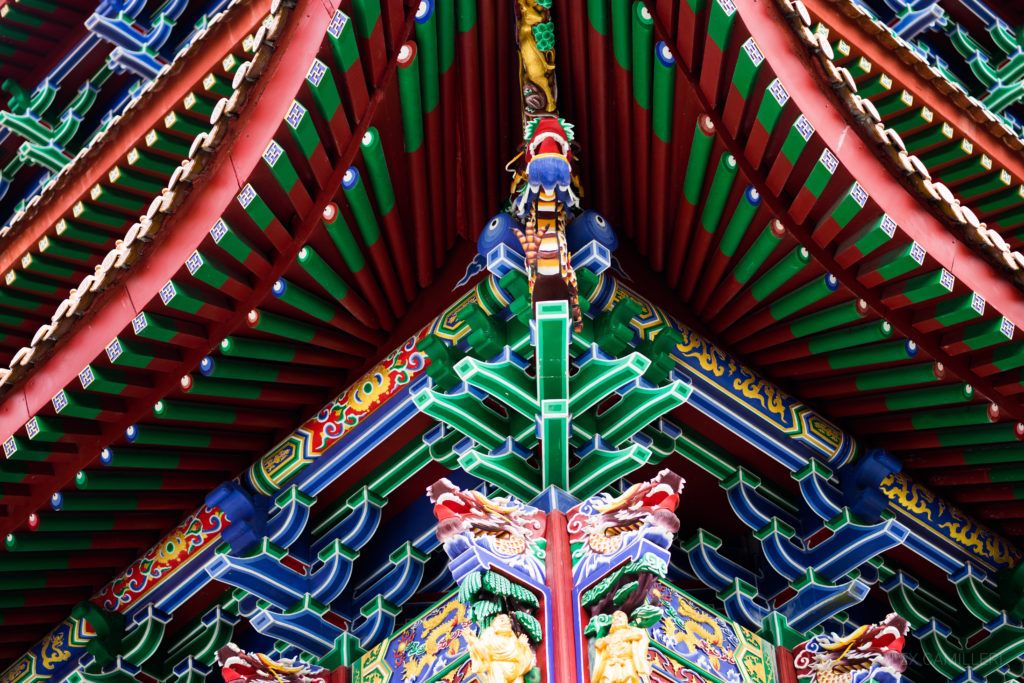 Holy shit, Hong Kong! Let's talk about Hong Kong! What a crazy place Hong Kong, I think I need to live in Hong Kong! Two weeks in Hong Kong and I felt like I really did not want to leave.
Yes, I am writing on this blog again! Since I came back I keep thinking that I want to talk about Hong Kong and and posting about it on social media would not give this place justice. Now, there is so much stuff to talk about, I think it's sensible to divide all of this in multiple parts. I am not sure if I will stick to these topics, but here's the plan.
Hong Kong Pt. I: Travel & Photography
Hong Kong Pt. II: Videogame stores
Hong Kong Pt. III: Paul, the Vinyl Master
Hong Kong Pt. IV: Vegan Survival Kit
Hong Kong Pt. V: Travel Loot
I might change the order, I don't know. Maybe I'll add more chapters, maybe I won't. I don't even know! Let's start!
Indiana Jones Theme plays
Where do I start? Well, let's skip the boring part where I was sitting on planes for too many hours. Fast-forward. During these two weeks in Hong Kong we've visited a bunch of places, we had a soft-plan, the type of plan that if in the morning you are too lazy then fuck it let's just be spineless worms the entire day (this happened few times I have to admit). Hong Kong is a city, but it's also many cities. Hong Kong is a busy metropolis, but it's also a morning market, it's also a set from Blade Runner, and it's also a place with terribly ugly buildings and amazingly beautiful streets, it's a place of kind people as well as CEO-Trump-looking rich citizens, it's kids on the streets and smell of fish everywhere. Hong Kong is so many things and it's impossible for me to appropriately describe it. Hong Kong is contrast.
Hong Kong is basically split in two parts: the northern peninsula, called Kowloon, and the island on the south which is actually called Hong Kong Island. It's a bit confusing but not too much. Both of them have incredible places, extremely diverse and thematically opposite in a way. Kowloon is where we stayed, we found an AirBnB between Sham Shui Po (videogames heaven) and Mong Kok (the most exciting and also stupidly busy place on this planet). Really nice place, but no elevator goddamn. I don't mind doing 6 floors without one, but the problem is when you spent the entire day walking and then you realize noone built an elevator. The problem is that in many buildings there is no space for them and everyone is stored like sardines. It's fine, you just need to get used to it a little bit. Mong Kok is considered the "shopping" district, but don't expect big glossy stores (you find them as well, but they are a quite lame). In Mong Kok you find many different markets (flower market, ladies market, goldfish market…), you find street food, you find street artists, you find any sort of store and restaurant. It's constantly alive and even late at night you will find people walking on the streets like it's just afternoon. The stores are usually open until 23.00, which also contributes to this sense of constant activity that you perceive. Some of my favorite pictures from this trip were taken here during night time. I prayed for rain so that I could take some Blade Runner shots, and luckily the second last day of the trip the gods listened to me and made me a happy kid.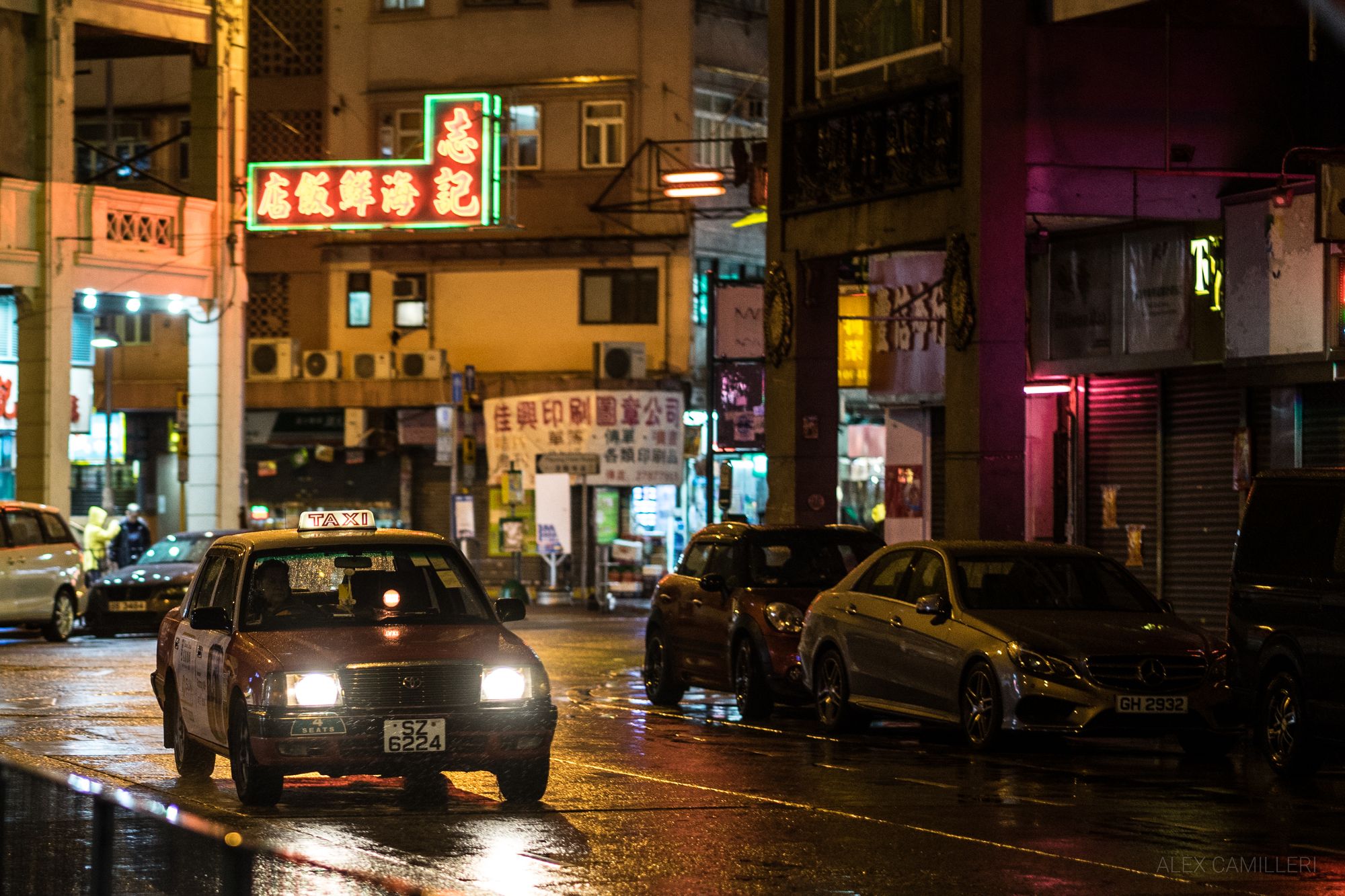 These two areas were a photography paradise. There is so much light even during the night, and you can always get some very clean shots. During the trip I used my Zeiss T* FE 35mm 2.8 and the FE 85mm 1.8 that I got last winter. I think it was a perfect combo as it allowed me to do more traditional street photography as well as capturing details from further away and do some portrait shots. Both very compact, the only annoying bit was carrying my tripod with me, but hey, I won't skip the mandatory long exposure shots. For those I used the 35mm and a classic ND filter.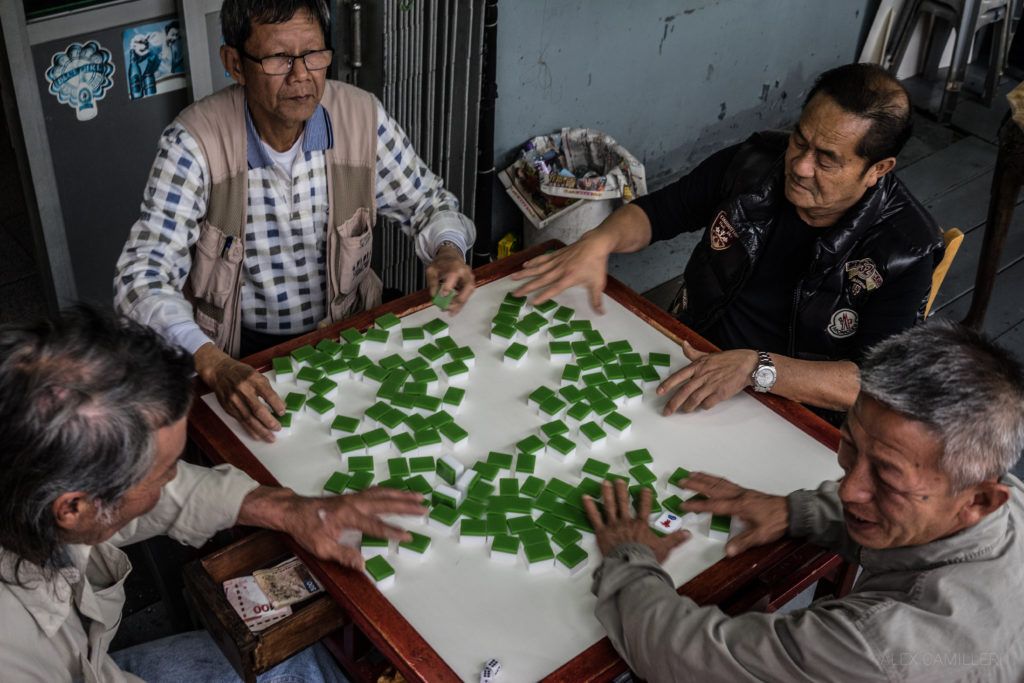 The weather was very nice during the day with an average of 22 degrees I would guess. The sky was often a bit cloudy and that was also really good for the photos, with the only downside of making the sky feel a bit dull sometimes. We went to the Nan Lian Garden (which I thought was definitely overrates, especially for how close to the streets and the tall buildings it is) and the Chi Lin Nunnery (which is basically connected to it). Both were quite nice, but I would say they are probably not really mandatory stops if you have a long list of places to visit. There are many special places we've visited, from the Victoria Bay skyline view, to the Beverly Hills-style beach of Repulse Bay, very close to Stanley Market. I personally found Kowloon much more vibrant compared to the more modern Hong Kong Island, but we did find some very nice jewels like the Man Mo Temple which was – obviously – super super crowded. They use a lot of incense inside temples, so get ready to spend most of your time crying and wishing you didn't have eyes in the first place.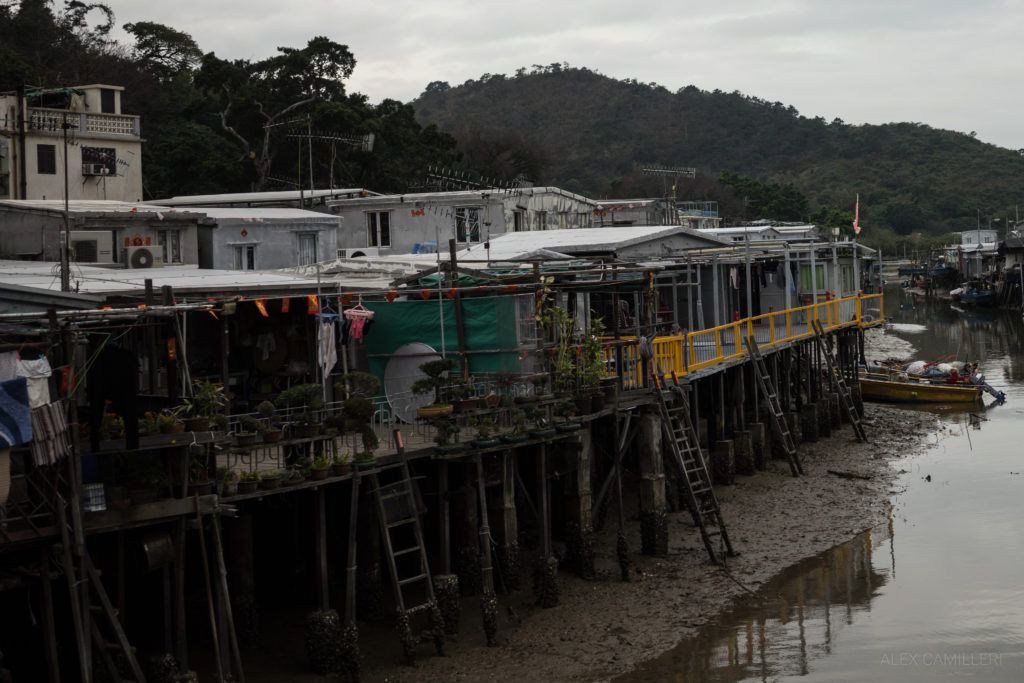 Overall it was really really tiring to visit all these places, so we usually took some days to just chill and relax when our legs were about to fall to pieces. One thing that I missed out was the view from Victoria Peak, but after spending one entire day going to the Big Buddha we really did not feel like walking ever again. I wish we went for some hikes, but it's very difficult to fit all of this in two weeks. The risk of going on hikes was to get extra leg-pain so we decided to dodge the bullet. Oh, and another great place to see is Tai O, a super tiny fishing village which is very close to the airport. It's kinda unbelievable that there is people living there, once again underlining the strong contrasts that characterize Hong Kong.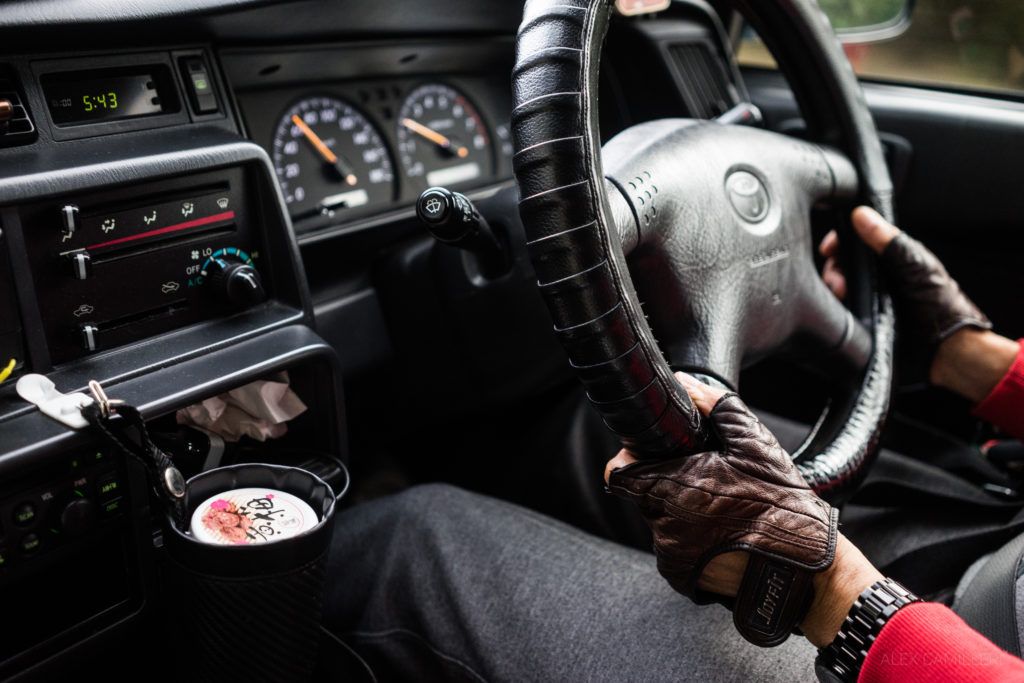 All in all, I had a hard time thinking of going back to Sweden. First of all because it's obviously sucky to say goodbye again, but part of it is also because Hong Kong is full of life in every corner, and I think I missed that more than I imagined. But hey, I'm not writing on a blog to end up depressing you, so rather than closing this post on a melancholic note I take this chance to showcase some of the signs that you can find in Hong Kong. Most of the street signs get translated to English but I think they extensively use Google Translate, otherwise I cannot explain the Litter Cum Recyclables Collection Bin. Oh well.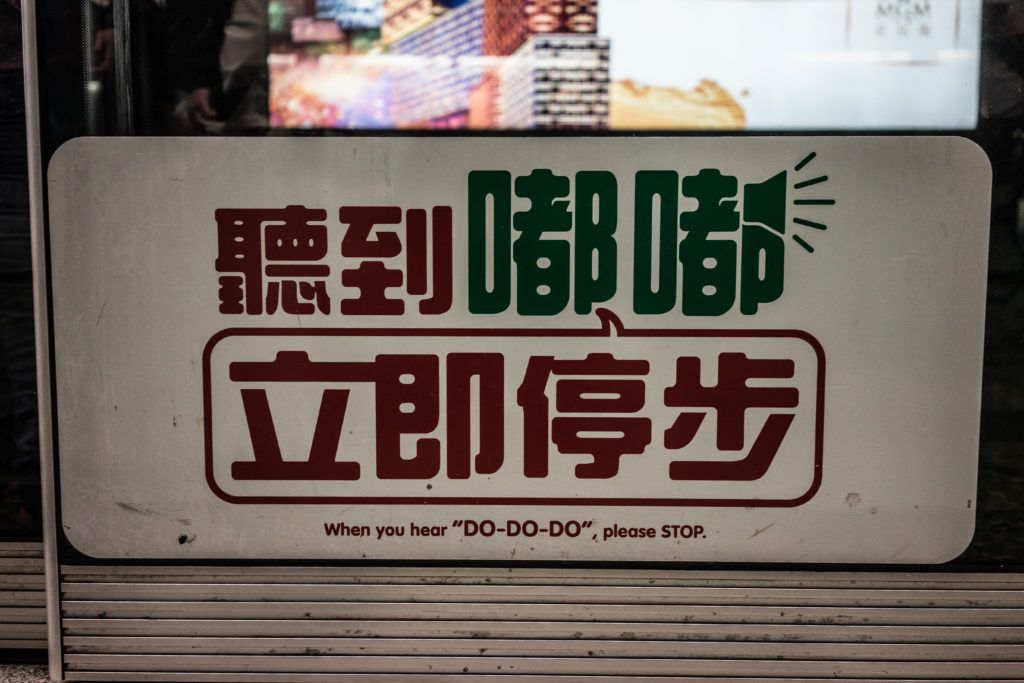 Want to read more of stuff like this? You can join the exclusive "Laugh & Grow Fat" Weekly Digest club for cool kids!